Last week TechBridge participated in StriveTogether's 2019 Cradle to Career Network Convening, a gathering of change makers united in the work of breaking down barriers and creating opportunities for every child, regardless of race or zip code.
At one of the plenary breakfasts, we heard from author, activist, and civil rights leader Stacey Abrams who said that "cradle to career begins when they arrive and ends when they get a job." Abrams encouraged us to hold a light up to solutions. In order to hold up a that light, our communities need data. Many of the sessions and workshops TechBridge attended were focused on data and the value of educators and partners utilizing data. Unfortunately, we often don't have enough "good data" on what is working and what is not.
In many of our communities, data illustrates what our community problems are. We then channel solutions and provide funding to nonprofits to try to combat those community problems. Funders and program managers ask for reports from nonprofits to try to better understand how their clients are faring. But we often stop there. An added complication is communities that receive multiple reports from multiple nonprofits. If we don't aggregate the data, we have no idea whether or not different nonprofit organizations are serving the same clients or if the combination of programs and services are leading to improved outcomes.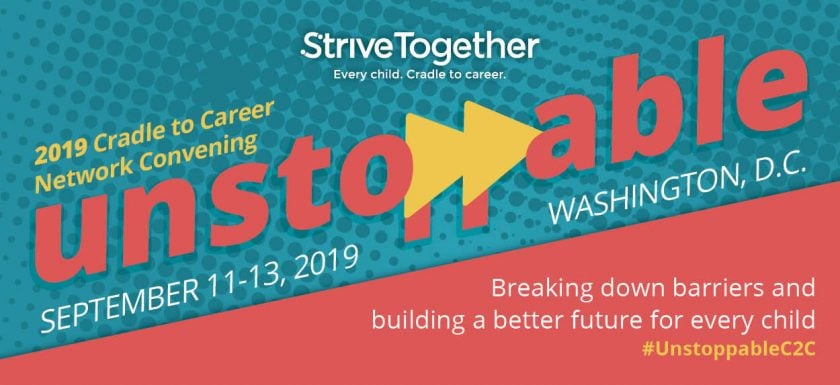 Founded as a cradle to career initiative in 2011, Every Hand Joined in Red Wing, Minnesota set up a system so that all nonprofit partners of the school system are able to receive information on the academic progress of the students they serve. Just knowing which nonprofits were asking for this academic information helped the school district to understand how many nonprofit partners were serving their students. Every Hand Joined was able to learn how many out of school time, tutoring program and mentoring programs students were attending.
Why aren't more communities trying to better understand how nonprofits are supporting school districts? Many communities struggle to get real time data from nonprofits. Addressing this data challenge is TechBridge's speciality. We are the pipeline of nonprofit data to community platforms so that communities can learn the combination of programs and services that students are receiving that lead to the best outcomes. It's not just one school that transforms a student's life. It takes many schools and nonprofits working together. One family could be served by five nonprofits and receiving 10 program services. Understanding the collective action is the game changer.
Learn more about how TechBridge helps communities to get real time data from nonprofits. Download our collective action white paper.
Is your nonprofit ready for data sharing? Take our operational readiness survey.